How satisfied are you with your void fill packaging process? If you are using pre-made void fill like bubble wrap and packing it manually, you want to consider the recommendations below, and here is why.
With Sealed Air's paper void fill, air pillow and bubble-on-demand solutions you can boost your packing efficiency, improve product protection, and minimize waste. Plus, by producing cushioning and void fill as required, you will reduce materials use, warehouse space and shipping costs!
Below are Fast Facts for you.
1. Produce Air Pillows on Demand with Fill-Air Rocket®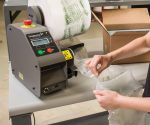 Produces 100 ft/ 30 m of inflated cushions per minute in a variety of sizes

Decreases the amount of space needed to store materials by up to 20%

1 Roll of film can inflate up to 5,900 linear ft/ 1,800 m of void fill

Unrivaled speed, compact footprint, versatile film options
2.

Create 100% Recyclable Void Fill with

 FasFil® 1500
Runs with fanfold 100% recycled curbside recyclable paper
Engineered to produce void fill in manual and programmed length
Small footprint, auto-repeat function, easy loading
Ideal for small-cell workstations
3. Produce Cushioning Bubbles as You Need Them with NewAir I.B.® Flex
Compact, fits easily on a tabletop or mounted on a table-side stand
Produce cushioning from ultra-light for source reduction to heavy-duty for extra protection
Maximum inflation reduces excess material use up to 50%
Completely portable – just plug in, power up and run
4. Make It All with One System – AirPouch® 600™
The ultimate in flexible high-speed inflation for air pillows, cushioning wrap or block-and-brace tubes and double-pillows
Economical space-saving alternative to separate inflation units
EarthAware® void-fill pillows material with 95% pre-consumer recycled content
FastWrap™ material for cushioning bubbles and block-and-brace tubes with 70% pre-consumer recycled content
EZ-Tear™ unique perforation for quick and effortless pillow separation
Benefit from Easier and Faster Void Fill Packaging
Customers who have recently switched from pre-made bubble wrap to these void fill machines say their packing process is much easier and much faster now. Furthermore, they reduced the amount of material used, minimizing the packaging waste, while providing better protection for their products. We look forward to helping you achieve the same results.
Interested in a void-fill system demo? You can choose to do it virtually, in our facility or yours, with all the proper safety measures in place.