Stretch film or pallet wrap has only one main purpose – unitizing products to ensure they move throughout the distribution channel in as-made condition.
The products you package were manufactured with utmost care and have to travel through rigours of distribution to your customers. Optimizing the application of pallet wrap increases containment (protection), packaging efficiency, capital equipment utilization, damage prevention and minimizes stretch film cost.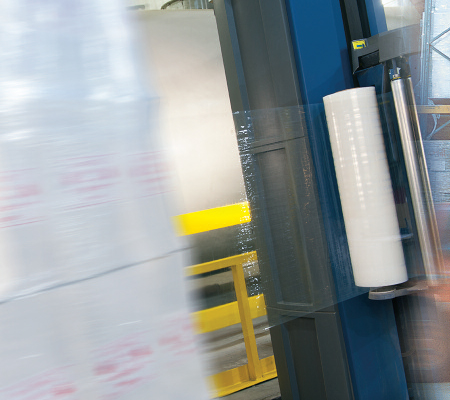 Request a FREE Rite-Gauging assessment today!
Superior containment for your pallets with high-performance stretch films engineered to stretch up to 300%
Ensure your pallets are intact after touching with the uncompromising cling promoting the adhesion of all film layers and no cling on the outside
Handle the most demanding hard-to-package loads with confidence thanks to the superior extrusion technology
Improve pallet wrapping quality and throughput, while reducing film in use by participating in Rite-Gauging Assessment, offered at no additional charge
Peace of mind knowing that the film you choose will meet or exceed your requirements with the opportunity to complete a full test in the state-of-the-art Package Assessment Lab by certified packaging engineers
Featured Stretch Film Products
Ultra-Performance One-Side Cling Machine Film
Anvil® is engineered to stretch up to 250%, maximizing the pre-stretch technology of high-speed wrapping equipment. Delivers excellent load containment, puncture resistance and cling with outstanding clarity.
Tough Co-Extruded Machine Film for Demanding Applications
Vortex film combines superior extrusion technology with metallocene resins to deliver exceptional unitization for hard-to-package loads, extraordinarily heavy pallets or extremely valuable products.
Most Advanced Lower Gauge Film
Evolve all-purpose film is a highly engineered, one-side cling cast super film. Multiple gauges available for various applications.
Stretch Wrappers
Increase packing efficiency and throughput by matching your pallet wrap with the right stretch wrapping machine. Maximize pre-stretch benefits, reduce film in use and wrapping cost per pallet.
Our Partners
Offering you exceptional innovative packaging materials and equipment from industry leaders.