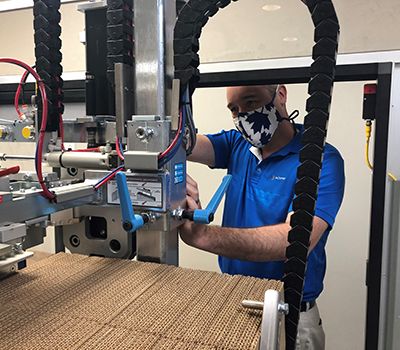 With the continued challenges of the pandemic, maintaining consistent levels of packaging productivity can be overwhelming. Whether it is materials, equipment, parts or service, having the support of a trusted service provider goes a long way.
When dealing with competing operational priorities, here are seven ways you can minimize the unplanned disruption, increase packaging efficiency and ensure reliable, consistent throughput.
1. Ensure your packaging tools and equipment are in good working order
Whether it is pallet wrappers, baggers, tray sealers, case sealers, water-activated tape dispensers, shrink wrappers or any other packaging machine or tool, regular checkups are a must to ensure their reliable performance.
In addition to in-house maintenance performed by your staff, equipment manufacturers recommend completing equipment assessments by the authorized service providers like PACKPRO. Not only they ensure your machines are in good order, they help prevent unforeseen breaks and loss of production time.
2. Plan your packaging orders ahead
The last thing you need is for your team to run out of packaging materials. At present, packaging materials and machinery are in extremely high demand. Manufacturers are coping with the impact of the pandemic, as are freight companies. Your orders may take longer than before. Adjust your forecasts and order early to ensure your packaging operations are fully stocked.
3. Increase staff productivity by offering more efficient tools
Ensuring the health and safety of your staff remains your highest priority at times like this. You can help your packaging teams to be more productive in what they do by upgrading the tools they use. For example, moving from poly tape to flatback tape or water-activated tape can increase productivity by 15-20%. All while reducing time to tape, the amount of tape used and the risk of injuries from repetitive tasks. It's not only about a productivity gain; it's also a morale booster.
4. Every small tweak counts in packaging productivity
Minimize repeated low-value labour-intensive steps in the packaging process, which also have a higher risk of injuries. Consider adding conveyors connecting different packing stations or lift tables, ensuring the product is at the right height for the packaging equipment.
5. Consider automation or upgrading your equipment
Things have changed dramatically in all areas of packaging. New advanced technologies are now at your disposal, like 'Pin and Dome' in case forming, CUBE™ and R-Connect in pallet wrapping, developments in water-activated tape, on-demand void fill, and flow wrapping, to name a few. You can take advantage of them to improve your packaging productivity and achieve superior product protection.
6. Save time, space and money with on-demand packaging
Tired of transporting the air and hearing that rolls of bubble wrap are eating up space that can be used for production or packing? Paper, air pillow or cushioning bubble void fill systems producing the materials when you need them is the way to go. For a high-speed solution that right-sizes the package to the length of your product and delivers up to 30%+ savings from the reduction of dimensional weight, check out Sealed Air's PriorityPak® System. Compact, space-efficient and operator-friendly machines come in many configurations. Plus, you can rely on our packaging experts to help you find the right fit for your operations.
7. Stop 'mummifying' your pallets to avoid damage in transit
You want to ensure your valued products arrive to their destination in as-made condition. However, using more film or thicker film is not always the answer. You want to apply the right amount of the right film at the right levels of your pallet. Ask us how you can reduce the film in use by up to 50% and wrap more pallets faster with Rite-Gauging®.
In Summary: Find solutions faster by consulting with a trusted packaging advisor
If there is a bottleneck in your packaging operations you are working to eliminate, an opinion from an experienced industry professional can help you find the solution faster. Whether it's front-of-the-line or end-of-the-line packaging, you can count on your PACKPRO sales professionals and service engineers. We will be happy to connect safely in person or virtually to troubleshoot or suggest options. With all the customers we've assisted in the past 20 years, we can offer many creative, cost-effective and reliable solutions. Get in touch!