Manufacturing technology for barrier trays, also known as modified-atmosphere-packaging (MAP) trays or Extended Shelf Life (ESL) trays, has experienced major transformational shifts in the past few years. For decades, when your poultry, meat, or seafood products required barrier properties for extended shelf life, you had to rely on polypropylene trays. While polypropylene is a recyclable material under code #5, the barrier liner added to it makes it harder to recycle. This prompted a search for a more sustainable alternative to polypropylene barrier trays.
Is there a viable equivalent to polypropylene trays?
With more and more consumers voicing their preference for more sustainable packaging, more and more grocery retailers are moving away from polypropylene. So, you may ask, what's the alternative, and can it provide the same barrier properties?
The new barrier tray – made from 100% recycled PETE and curbside recyclable – is now available in the marketplace. You'll have peace of mind knowing that it provides the identical barrier and shelf-life properties to those of polypropylene trays.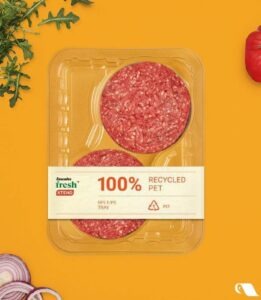 Have the alternative trays been tested in a production environment?
Yes, more and more poultry, meat, and fish processors are making the move. For example, one of the leading Ontario manufacturers of ethnic foods and meats has recently completed a successful transition from polypropylene trays to 100% recycled PETE barrier trays by working with PACKPRO and PACKPRO's supplier partner Cascades.
Why switch to the RPET barrier trays?
It's the following multiple benefits of the new high-performance ergonomic recyclable trays that won the customer and their clients over:
1. Reduced Environmental Impact
The use of 100% recycled materials in the production of this tray, compared to making a tray with virgin polypropylene, results in a favorable impact on these environmental indicators*:
– 41% less impact on climate change and
– 78% less non-renewable resources used
2. Reduced Food Waste
This Modified Atmosphere Packaging (MAP) tray helps preserve food longer, translating to less food waste. In combination with barrier films and absorbent pads, it's engineered to provide optimal and extended shelf life.
3. Optimized Operations
This RPET/PE tray is designed for automation and aligns seamlessly with your equipment. It's compatible with the most widely used films on the market. As a complete packaging solution, it makes your inventory management easier.
4. Perfected Design
This line of trays has been carefully designed to maximize stiffness, therefore, minimizing the risk of warping. Its grooved design provides increased stiffness and a better flow of gas in the tray.
Furthermore, it looks excellent on the store shelves and has been well received by grocery retailers.
5. Wide Selection
100% Recycled PET tray** is available in various sizes and colours. It can be customized with embossing to effectively meet your specific needs.
6. Guaranteed Compliance
Trays are made from material compliant with FDA and Health Canada requirements. They are manufactured in an SQF-certified facility that meets the highest standards of the food industry.
7. Local Manufacturing
These revolutionary trays are proudly made in Canada.
8. End-to-End Technical Support You Can Count On
The food processor knew they could rely on PACKPRO's support for a smooth transition. From analyzing options to providing samples for testing and in-store evaluation to planning the forecast and managing tray inventory for just-in-time deliveries, PACKPRO food packaging specialists ensured successful completion of every implementation stage.
In Conclusion
If you're searching for a sustainable alternative to polypropylene barrier trays, now is a great time to connect with PACKPRO and explore food packaging solutions available to you and evaluate the new options.
* Source: Life Cycle Assessment of Cascades trays, Groupe AGECO, Montreal, January 2020. **Excluding coating.