Making the switch from manually bagging is a big step toward streamlining your packaging operations and lowering your total costs. However, we understand it's a large investment to make which is why it's important to do your research before purchasing. The following guide is a good start to learning what to look for in a bagger and comparing different automated bagging machines.
How to choose the right bagging machine for you
There are a lot of factors to consider when purchasing an automatic bagging machine. Answer the following questions to get a better understanding of what you're looking for: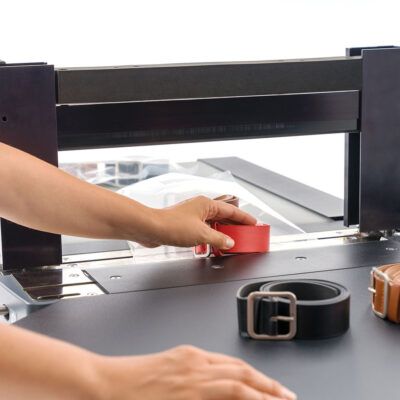 What products are you bagging? Are single or multiple products going into each bag? What are the dimensions of each product?
What throughput speed are you currently bagging at and what speed are you hoping to achieve?
How much space in your warehouse can be dedicated to this machine?
How many operators do you want to dedicate to bagging?
What additional features are you looking to add to your bagging system? In-label printers? re-closable zipper bags? Conveyor belts?
What sets the Autobag brand apart from the rest?
Automated Packaging Systems, LLC is the original inventor of Autobag® bagging machines and pre-opened, system-matched bags. APS, now a part of Sealed Air, has been serving a wide variety of industries worldwide for more than 50 years. From industries that require strict adherence to machine and material standards, to eye-catching branded bags, Autobag® systems can be tailored to your unique bag packaging application.
Autobagger universal features and functions
All baggers have the option of being purchased with high-resolution thermal imprinters to eliminate the need for a separate labeling operation and reduce changeover time
AutoTouch control screens are built with user-friendly features such as job recall and performance monitoring for all operators to quickly learn and manage
Standard or custom system-matched bags that come in a variety of sizes and thicknesses
Advanced technology allows these systems to use smaller, more completely filled bags
PS125 vs. AB550 vs. AB650 vs. AB850 vs. FAS Sprint
PS125 – Tabletop Baggers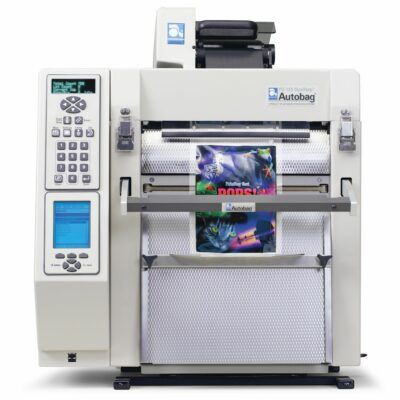 The PS125 is the typical first step up from manually hand bagging. These tabletop baggers are ideal for low- to mid-volume productions, operating at speeds up to 25 bags per minute. The PS125 is easy to operate with a user-friendly display screen and a small footprint.
Additionally, the PS125 has locking turntable links with the AutoThread™ feature that provides ergonomic handling and bag changeover. Bags are automatically indexed, loaded by hand, and then sealed using the Push-to-Seal™ automated sealer function.
Bagging Speed:
Up to 25 bags per minute
Exclusive Features:
The all-electric system makes this the only machine that does not require compressed air to run
Compact design is ideal for low- to mid-volume packaging operations
Open loading area and controlled seal bar maximize loading flexibility and operator safety
Industry Applications:
Automotive & appliance parts
Hardware & DIY
Electrical & electronic
Plumbing & heating
Hobby & craft
Product fulfillment
Jewelry & novelty items
Cosmetics & beauty aids
Disposable health care
Mail order fulfillment
eCommerce fulfillment
*This machine can be customized for certain food applications
AB550 – Short-Run Bagging System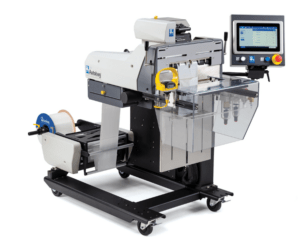 The 550 Autobagger model is an automatic filling and sealing machine capable of running at speeds up to 45 bags per minute. This revolutionary new approach provides unobstructed access to the open bag, facilitating faster and more ergonomic loading.
This system can also be networked for full pack station integration to facilitate central monitoring; and the extraction of productivity information that can be manipulated for detailed analysis.
Bagging Speed:
Up to 45 bags per minute
Exclusive Features:
Multi-position unwind with tension control simplifies changeover
A 45-degree tilt option is available for orientating long or delicate products
Optional Additions: handheld or tabletop bar code scanner, range of infeed funnels, seal flatteners, raised unwind, bags-in-a-box adapter
Typical Applications:
eCommerce fulfillment
Prescription fulfillment
Spare parts distribution
Any market with short-run, frequent changeovers
AB650 – Horizontal Wide Bagging System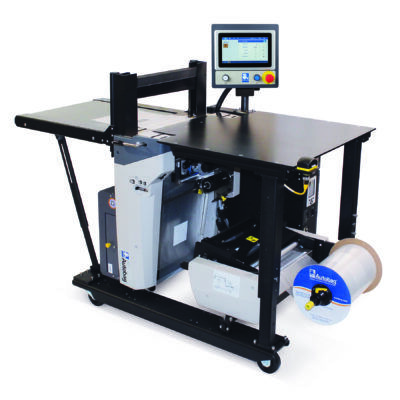 The Autobag 650 Horizontal is an automatic filling and sealing machine capable of running 16″ wide bags. Unlike the other Autobaggers, this machine feeds out bags horizontally for guaranteed label-up orientation on every item.
Receive a large load area for order prep and bulk product queuing, while occupying minimal floor space with a compact design. This machine is simple and easy to maintain with multi-position unwind bag changeovers and few moving parts.
Bagging Speed:
Up to 40 bags per minute
Exclusive Features:
The horizontal configuration ensures more control over product placement
24" conveyor boasts an open-space design, enabling effortless transition into secondary conveyance systems
Simple machine design minimizes operator training requirements – perfect for high-turnover, seasonal labour
Industry Applications:
eCommerce Returns Processing
Inbound Dust Cover Bagging
Single or Multi-line eCommerce Fulfillment
Short-run Production with Frequent Changeovers in Any Market
AB850 – Extra Large Bagging for Mail Order Fulfillment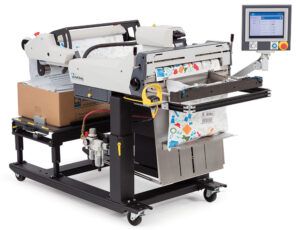 The new Autobag® 850S™ automatic bagging machine is designed specifically for eCommerce order fulfillment. The 22" wide bag-opening technology securely grips and holds the open bag in place. This creates a large, square opening (up to 275 x 275 mm) that allows for easy loading of single or multi-line orders.
Unique engineering also eliminates the need for bulky guarding or devices typically required for safe operation, while still remaining inherently safe. This unobstructed access provides ergonomic loading and improves operator throughput.
Bagging Speed:
Up to 25 bags per minute
Exclusive Features:
Industry's widest bagger running bags up to 550 mm wide
High-quality seals with coordinated seal flattener for wrinkle-free seals
Simple height adjustment and wheels for operator comfort and portability
Easy loading modular bag storage shelf that speeds bag changeovers
Industry Applications:
Single or multi-line mail order fulfillment
eCommerce fulfillment
Prescription-by-mail fulfillment
Apparel
Fashion Accessories
Sporting Goods
Footwear
SidePouch Sprint – High Productivity Bag and Pouch System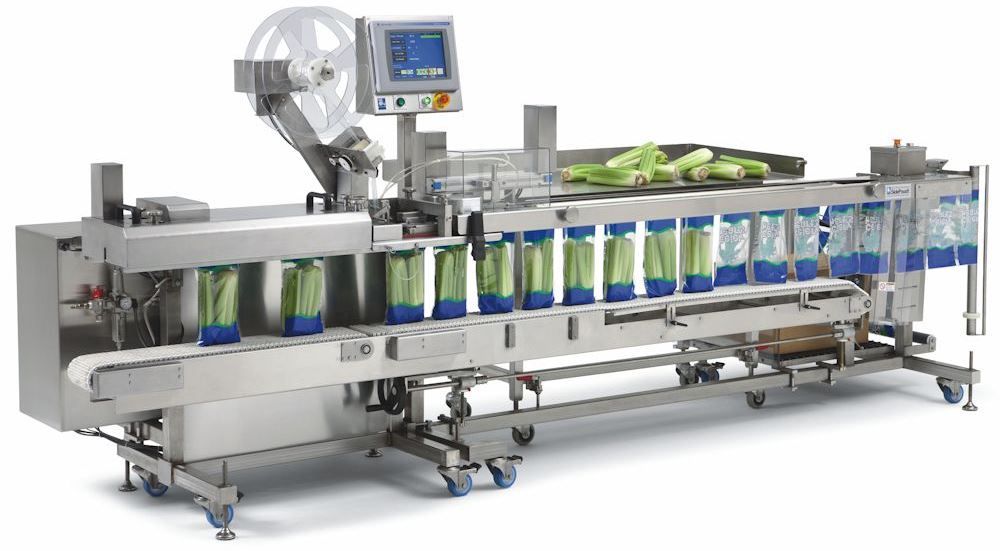 The automated SPrint SidePouch packaging system operates up to 120 bags per minute for high productivity solutions. This advanced bagger offers special bag features and significantly improves product throughput and bagging changeover.
A 60″ load area provides ample space for multiple operators or infeeds. Choose from continuous or intermittent bag indexing to accommodate the high speeds of individual product or kit packaging.
Bagging Speed:
Up to 70 bags per minute in intermittent mode, and up to 120 bags per minute in continuous mode
Exclusive Features:
Safe and mobile for quick set-up and easy operation
Integrates with automatic infeed equipment, inline imprinters and existing production lines
System-matched bags offer special features, such as re-closable zippers, resealable plastic bags and more
Industry Applications:
Disposable health care & dental products
Cosmetics, health & beauty aids
Automotive replacement parts
Hardware, appliances & plumbing
Electrical and electronic products
Lawn & garden replacement parts
Spare parts kits
Pet supplies
Hobby & craft items
Printed manuals and inserts
Jewelry & novelty items
Medical device packaging
*This machine can be made food-grade standard for daily washdown procedures and accommodate the following applications:
Fresh & Frozen Foods
Fruit & Vegetables
Snack Foods
Portion Pack Foods
Pet Food & Treats
Why buy automated bagging machines from PACKPRO?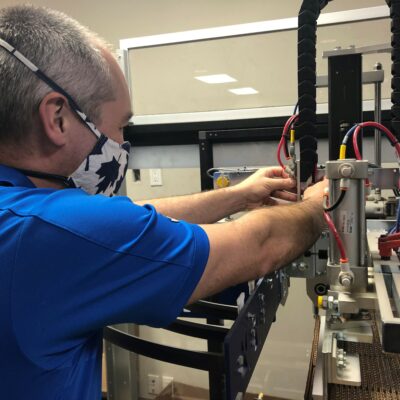 Many other factors can determine which bagging system you require. This is why PACKPRO packaging specialists work closely with you to understand your business and product needs. We offer in-house demos so you can be sure the unit you're purchasing is right for you.
On top of industry-leading bagging machines, PACKPRO complements your equipment with full-system materials and readily-available service. Ensure your bagger maintains its value for years to come with our Original Equipment Manufacturer parts and Preventative Maintenance programs.